AUTHOR: BAULDIE, JOHN (editor)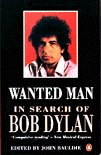 Title: Wanted Man: In Search of Bob Dylan
New York: Carol Pub Group, Citadel Press. Oct 1991 (left). Originally London: Black Spring Press, 1990 hb. Also UK: Penquin pbk (right). Also Spain: Celeste Ediciones (Se Busca) pbk. Also Japan: Shinko Music Pub Co., pbk.
Description: 224 p.


Notes: A collection of interviews with other performers and personalities who have worked with Dylan over the years, taken from The Telegraph. Many of these interviews have been quoted in part by the major biographers, and give an interesting, scattershot but effective portrait of Dylan as seen through the eyes of his collaborators. Reviewed in Goldmine 1992 (#303), p. 49. The Telegraph website gives the List of contents for this book, as well as for the not yet published Vol 2 that is being planned.


Subjects: History


ISBN: 0806512660 (pbk) $9.95

---
Also by this author:
---
To select another author, by last name:

A | B | C | D | E | F | G | H | I | J | K | L | M | N | O | P | Q | R | S | T | U | V | W | X | Y | Z |

To author or title index. Or perform a keyword search.
---

-- to Table of Contents

Last updated: 3/23/97
For more information contact: bib@taxhelp.com
© Copyright 1995-97 by Ron Chester
All Rights Reserved